IT Pros Select 2016 Cloud, OpenStack & Networking Brand Leaders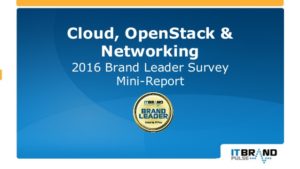 Rackspace named Market Leader in three product categories; Cisco & Palo Alto Networks capture two; Mellanox, MongoDB, Red Hat, Riverbed, Symantec/Blue Coat, VMware, Zadara Storage also top the chart

SAN DIEGO, CA— IT Brand Pulse, a trusted source for research, data and analysis about data center infrastructure, today announced the results of the recent IT brand leader survey covering Cloud, OpenStack & Networking products.
IT professionals from around the world responded to the independent, non-sponsored survey in September 2016 asking which vendors they perceive to be leaders in these fourteen categories:
"In our first survey covering OpenStack infrastructure, OpenStack pioneers Rackspace and Red Hat dominated IT pro voting," said Frank Berry, CEO and Sr. Analyst, IT Brand Pulse. "MongoDB was front-of-mind in another new survey for NoSQL database distributions, while Cisco and Palo Alto were recognized in multiple networking categories."
Rackspace
OpenStack Service Providers
After nearly a decade of IT Brand Pulse brand leader surveys, OpenStack made its debut in the September IT pro voting. Among the four included OpenStack product categories, a single vendor walked away with a sweep of all leader titles in three. For OpenStack Service Providers, Rackspace picked up the Market, Price, Performance, Reliability, Service & Support and Innovation leader awards, ahead of IBM and HPE, overall respectively.
OpenStack Services
Rackspace secured Market, Price, Performance, Reliability, Service & Support and Innovation leadership in OpenStack Services. IBM took second and Mirantis, third, across the board.
OpenStack Training
Continuing to be at the top of respondents' minds for OpenStack, Rackspace earned all six leader titles—Market, Price, Performance, Reliability, Service & Support and Innovation—for OpenStack Training. Mirantis collected the all-around runner up with Red Hat, in the number three spot.
"Rackspace is honored to be recognized by IT professionals as the leader in OpenStack services and training, and as the leading OpenStack service provider," said Bryan Thompson, GM of OpenStack at Rackspace. "This recognition is a validation of the expertise that we have gained through building and operating OpenStack clouds at scale since founding OpenStack over six years ago. Through the Rackspace OpenStack product portfolio, our customers consume OpenStack as a managed service while receiving guidance and training from Rackspace experts, so they can focus on growing their core business."
Palo Alto Networks
NextGen Enterprise Firewalls
For the second year in a row, Palo Alto Networks paved the way as Market, Performance, and Innovation leader and this time around added the Reliability and Service & Support awards. Dell SonicWall kept Palo Alto from taking Price Leader. Cisco finished next in line for Market Leader with F5 in third.
Virtual Firewall Appliances
Climbing out from a second-place showing in 2015, Palo Alto Networks was chosen Market, Price, Reliability, and Service & Support leader in this year's survey. F5 (Market Leader runner up) broke apart the complete victory by being selected both Performance and Innovation leader. VMware snagged the overall third place.
"Palo Alto Networks enables customers to protect our digital way of life with a prevention-first approach to cybersecurity," said Navneet Singh, product marketing director at Palo Alto Networks. "Next-generation security offerings should never inhibit organizations from confidently pursuing new technology initiatives in support of business goals. This recognition by our peers for our next-generation firewalls, implemented in a portfolio of both physical and virtualized appliances, further reinforces our commitment to preventing successful cyberattacks and to restoring the trust we all require for our global economy."
VMware
Enterprise Mobility Management
VMware AirWatch® emerged as the Market title-holder for Enterprise Mobility Management and led the way as Price, Performance, Reliability, Service & Support and Innovation leader. Microsoft and IBM went two and three as Market Leader.
"Businesses understand the strategic importance of selecting the right Enterprise Mobility Management platform and, its ability to enable digital transformation and solve key security challenges," said Blake Brannon, vice president, product marketing, mobile products, End-User Computing, VMware. "Listening to our customers and continuing to deliver a market-leading AirWatch Enterprise Mobility Management solution are unyielding priorities for VMware and we will continue our steady focus on innovation, price, performance, reliability, service and support. Being recognized for this award is really a testament to the strategic vision of our customers and partners."
Riverbed
Virtual WAN Optimization Appliances
In a field crowded with sixteen vendors vying for leadership titles, IT pros flipped their perceptions in 2016 tapping Riverbed as Market, Price, Performance, Reliability, Service & Support and Innovation—moving the past champ, Cisco, down to number two Market Leader (ahead of F5).
"Riverbed is honored to be recognized by IT professionals as the Virtual WAN Optimization Appliances leader," said Paul O'Farrell, senior vice president and general manager, SteelHead product group, Riverbed Technology. "Now that virtualization has become the default standard in data centers, businesses are looking to virtualize more of their infrastructure and branches. By leveraging Riverbed SteelHead for Virtual, our customers have the ability to optimize and accelerate delivery and performance of applications, while taking advantage of the scaling and cost benefits of virtualization. We are honored that IT professionals have selected Riverbed as the market leader across every category of Virtual WAN Optimization, which demonstrates our commitment to helping businesses realize their full potential of the digital transformation."
MongoDB
NoSQL Database Software Distributions
With six brand leader distinctions (Market, Price, Performance, Reliability, Service & Support and Innovation) up for grabs in NoSQL Database Software Distributions, MongoDB scored big by receiving all of them. Oracle and DataStax Cassandra rounded out the top three Market Leaders, accordingly.
"We're honored to be recognized by the IT professionals who voted for MongoDB in NoSQL Database Software Distributions," said Brooks Crichlow, VP of Product Marketing at MongoDB. "MongoDB is the most popular modern database choice because we help organizations develop, scale, and manage mission-critical applications in ways they never could before — whether you're accelerating the development of new applications on MongoDB, or migrating existing workloads to MongoDB from legacy platforms. Receiving all six distinctions in this category tells us that IT professionals choose MongoDB for its performance, reliability, and product innovation, as well as the service and support we provide."
Mellanox
Low Latency Ethernet Adapters
Mellanox commanded Market leadership for the third year along with Performance, Reliability, and Innovation honors. Intel, the 2016 survey's Service & Support leader, placed in the number two Market slot, preceding Cisco. Broadcom was credited as Price Leader.
"This is the third year running that Mellanox has been honored with IT Brand Pulse award for our low latency Ethernet adapters," said Kevin Deierling, vice president of marketing, Mellanox Technologies. "We continue to strive for innovation in the Ethernet arena by delivering the most efficient Ethernet connectivity in the industry that improves the bottom line for hyperscale, cloud infrastructures, enterprise datacenters and more, while enabling faster data speeds to enable data center to better handle the growing demand for analytics."
Zadara Storage
On-Premise Enterprise Storage as a Service
Zadara Storage proved it is still the company to beat for On-Premise Enterprise Storage as a Service, with a replay of its 2015 Market Leader achievement. Zadara also brought home Price, Performance, Reliability, and Innovation awards. Nimble Storage—the second-place Market finisher— interrupted the sweep by earning Service & Support and SoftNAS, the only other competitor, was number three.
"Zadara is proud to once again be recognized by both IT Brand Pulse and industry IT professionals as the Market Leader for On-Premise Enterprise Storage-as-a-Service," said Kevin Liebl, vice president of marketing, Zadara Storage. "This year, we added Reliability leadership to our Market, Price, Performance and Innovation leadership awards. Since the awards are based on IT Professional's feedback, this reinforces that the Zadara Enterprise Storage-as-a-Service solutions are aligned perfectly with the market requirements. IT Brand Pulse research has shown, that by 2020 Storage-as-a-Service will be 50% of overall industry storage spending. As the market continues to transition from older CapEx acquisition models to OpEx as-a-service models, Zadara Storage will pave the way with industry-leading Cloud, On-Premise and Hybrid solutions."
Cisco
Low Latency Ethernet Switches
Although this category was last surveyed in 2014, IT professionals held on to their mindset: For the third time, Cisco swept Low-Latency Ethernet Switches (Market, Price, Performance, Reliability, Service & Support and Innovation). Mellanox was the voters' second choice as 2016 Market Leader, followed by Arista.
Unified Threat Management
Cisco stayed in front of Juniper Networks (voted Service & Support Leader) and Dell SonicWall (Price Leader) to nab Market, Performance, Reliability, and Innovation. Juniper and Dell came away with the number two and three Market positions, in that order. Having a unified threat management software from a company similar to Fusion may be what a company needs to keep track their performance while maintaining and safe and secure network.
Symantec/Blue Coat
Secure Web Gateways
With the acquisition of the two companies complete only one month prior to this 2016 survey, Symantec/Blue Coat carried its cyber-security portfolio to a new level as voters cast their winning ballots for them: Market, Price, Performance, Reliability, and Innovation leader. While Cisco was singled-out for Service & Support, ZScaler slipped in as runner up Market Leader (Cisco was third).
Red Hat
OpenStack Distributions
Red Hat captured Market, Price, Performance, Reliability, Service & Support and Innovation awards for OpenStack Distributions; garnering the highest Market Leader voting percentage (more than 60%) in the entire survey of fourteen product categories. SUSE and Mirantis were a distant second and third.
IT Brand Leader Surveys
IT Brand Pulse awards are the symbols for brand leadership. Winners are voted by global IT pros in surveys that are independent, non-sponsored research. The surveys are designed to measure the pulse of brand leadership in specific product categories. Within each product category, respondents choose the overall market leader, as well as the leader in price, performance, reliability, service and support, and innovation. Voters are provided with a category description at the start of each product section, a randomized choice of vendor answers, and the ability to write-in a vendor, if not listed.

Global IT Pro respondents to recent surveys include:
A.F Ferguson (PwC) – American Airlines – Anthem – AT&T – Averitt Express – Bank of America – Banner Bank – BARC – Boston Scientific – British Petroleum – Caesars Entertainment – Capgemini – Capital One – CGI – City of Los Angeles – Columbia University Medical Center – Cox Communications – CPX – Daybreak Game Co. – Delta Airlines – Detroit Medical Center – Deutsche Welle TV – ELETRONORTE – Ernst & Young – ExxonMobil – FDIC – First Republic Bank – Ford Motor Co. – Geotab – Hetero Drug – Independence Blue Cross – ISRG – ITG Inc – Jockey International – Kaiser Permanente – Lafarge – Library of Congress – Lockheed Martin – Lowe's – London Police Service – Macys – Marubeni America – McKesson Corporation – Mentor Graphics – Michael Kors – Milliman – Mimeo – MIT Media Lab – Morgan Stanley – NASA – National Bank Of Greece – NAVNETWARCOM – NCR – Nevada Supreme Court – NIH – NOAA – Norfolk Southern Corp – NYCHA – Optum – PPG Industries – Perrigo – Purdue University – Ricoh – Servpro – Shell Oil – Siemens – Social Security Administration – Southwest Gas Corp – St. Luke's Hospital – Stanford University – Staples – Swagelok – The J.M. Smucker Co – Thomson Reuters – U.S. Census – U.S. Navy – UPS – USA ARDEC – USGS – Verizon – WESCO & many more..
About IT Brand Pulse
IT Brand Pulse is a trusted source of research, data and analysis about private, public and hybrid cloud IT infrastructure, including servers, storage, networking and operating platforms. Learn more at www.itbrandpulse.com.
VMware and AirWatch are registered trademarks or trademarks of VMware, Inc. in the United States and other jurisdictions.
CONTACT:
Cheryl Parker
Director & Senior AnaIyst, End User Research
IT Brand Pulse
949-713-2313
www.itbrandpulse.com