IT Pros Vote 2022 Brand Leaders for Flash
Samsung SSD Market Leader for Eight Consecutive Year; Dell Technologies Voted Market Leader in Five Categories; Intel® Optane™ Chosen as Market Leader for NVDIMM; SAP HANA Voted Market Leader for Big Memory Software
SAN CLEMENTE, CA—JANUARY 26, 2022— IT Brand Pulse, a trusted source for research, data and analysis about data center infrastructure, today announced the results of 2022 IT pro voting for flash brand leaders. Once a year the independent, non-sponsored surveys asks which vendors are perceived to be the market, price, performance, reliability, service and support, and innovation leader for nine flash-related product categories.
"On-Prem All-Flash Storage-as-a-Service was this year's most competitive category, where IT Pro voting reflected the success of the Dell Technologies APEX and HPE GreenLake offerings," said Frankie Berry, Managing Partner and Senior Analyst at IT Brand Pulse. "Survey results also demonstrated the power of halo brand recognition as traditional enterprise storage leaders secured the bulk of IT Pro votes. Notable exceptions were performance and innovation leadership from Pure Storage and MemVerge that helped them stand out from more established competitors."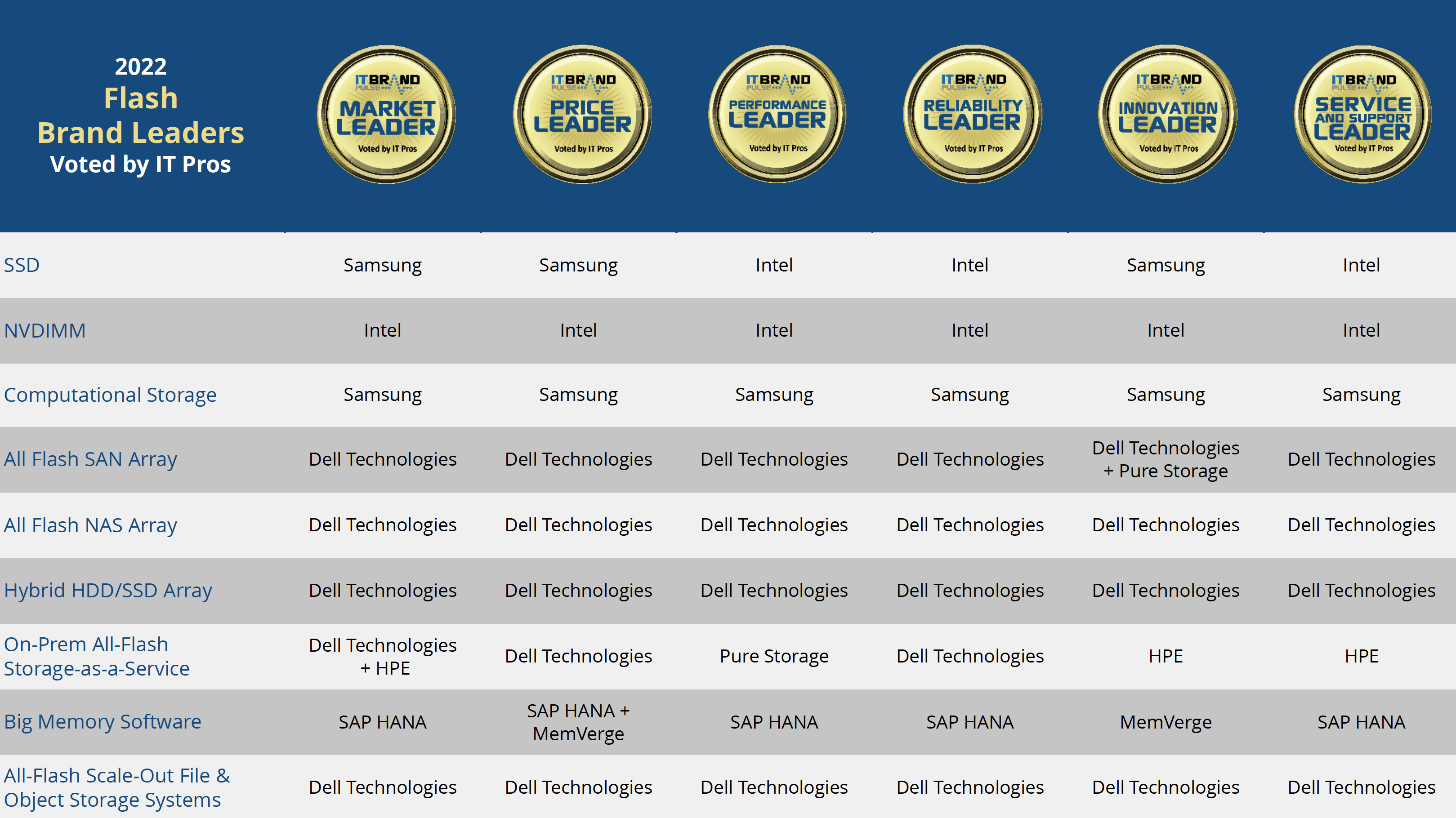 Samsung SSD Market Leader for Eighth Consecutive Year, New Computational Storage Market Leader
From 2011 to 2013, companies not named Samsung were perceived as market leaders for SSD. From 2014 on, Samsung has reigned as the undisputed brand leader for enterprise SSDs as IT pros selected the company as market leader in eight consecutive IT brand leader surveys. Samsung was also voted as the leader in 2 other categories of brand leadership. Intel was selected as the leader in Performance, Reliability, and Service & Support.
Enterprise Storage leader Dell Technologies Selected as Market Leader for Five Categories
In a repeat from last year's survey results, Dell Technologies was voted the market leader for All Flash SAN Array, All Flash NAS Array, Hybrid HDD/SSD, and All-Flash Scale-out File & Object Systems. The company also tied in voting for market leader for On-Prem All-Flash Storage-as-a-Service, a reflection of the success of the new APEX offering.
Intel® Optane™ Persistent Memory Chosen as Market Leader for NVDIMM
As on-prem and cloud customers evaluate and deploy persistent memory, IT pro appreciation for the Intel Optane brand grows. The company swept all six categories of NVDIMM brand leadership with the most votes for market, innovation, performance, reliability, price, and service & support leadership.
HPE Ties as Market Leader, Voted Innovation Leader for On-Prem Storage-as-a-Service
HPE is the undisputed marketing leader in on-prem infrastructure-as-a-service. Their massive marketing thrust is certainly behind IT pros selecting HPE as the market leader for on-prem Storage as-as-Service. The company was also voted as the Innovation and Service and Support Leader, indicating their continuous flow of new GreenLake programs is recognized.
View the complete survey report for an in-depth look at the survey results.

Global IT Pro respondents to recent surveys include:  
American Airlines – American Express – Adobe Systems – Advocate Health Care  – Aetna – AF Group – Air Force Space Command – Allstate – AT&T – BAAQMD – Bank of America – Beckman Coulter – Boeing – Baylor College of Medicine – Bosch – Boston Scientific – Brinker International – CA Department of Insurance – Capital Group – Caesars Entertainment – Celanese Corporation – Citibank – City of Los Angeles – Combined Insurance – Coca-Cola  – Colliers – Comcast – Cox Enterprises – CPS Energy – Daiwa Capital Markets – Dana Foundation – Daybreak Game Co. –  Disney – DLL Group – Dow Corning Corp – Duke University – Edmunds – Encore Capital Group – EnerCare – Ensco – Exelon Corp. – ExxonMobil – EY – FedEx – First Acceptance Corp. – Four Seasons –  Franklin Templeton – General Electric – General Motors – Great-West Life – GWDG – HCSC – Kaiser Permanente – Kingston – LANL – Library of Congress  – Lockheed Martin – LRZ – Michael Kors – MIT IS&T –  Morgan Stanley – NASA Ames Research Center – NIH – NBC/Universal/Comcast – NCR – Optum – Orbital ATK – Polycom, Inc. – Quicken Loans – Raytheon – Ricoh – Ryanair  – Schindler Elevator Corp. Shaw Industries – Siemens Corp. –  Snyder's-Lance  – Spectrum Brands – Stanford University – Staples – Starbucks – States of AL CT, LA and MT – Time Warner – TMZ – Torchmark – Tiger Corporation – T-Mobile – UCLA – United Health Group – U.S. Dept. of Labor  – U.S. Navy – UPS – Veolia – Verizon – Walmart – Weizmann Institute of Science – West Pharmaceutical Services – Yale – Yazaki…and many more.
About IT Brand Pulse
IT Brand Pulse is a trusted source of research, data and analysis about private, public and hybrid cloud IT infrastructure, including servers, storage, networking and operating platforms. Learn more at itbrandpulse.com.
CONTACT:
Frankie Berry
Managing Partner
IT Brand Pulse
949-713-2313