Industry's First Petabyte-Scale On-Prem STaaS

From Gigabyte-Scale to Petabyte-Scale Storage
IT Brand Pulse defines petabyte-scale storage simply as "systems designed specifically to deliver high-performance and availability in multi-petabyte environments."
In 1987, Infinidat founder and CEO Moshe Yanai led the development of the Symmetrix storage architecture that transformed EMC from a fading memory board company, into the dominant supplier of gigabyte-scale storage for applications that demanded the ultimate in performance and reliability.
Almost thirty years later Yoshe founded Infinidat with an all new platform designed for petabyte-scale storage and customers with business-critical workloads. In only a few years the company and its modern architecture succeeded in displacing traditional storage leaders in dozens of massive financial institutions, insurance companies, and retailers that absolutely must provide instant response time to tens of millions of customers, and who suffer millions of dollars in losses for every minute of downtime.
Infinidat Announces New Products that Hep Customers Scale-to-Win
On May 7, Infinidat announced their Elastic Data Fabric, as well as several new offerings that form the underpinnings of the new fabric, and that help customers scale-to-win.
The Infinidat Data Fabric is comprised of Infinidat hardware and software infrastructure working together to provide seamless workload mobility between multi-petabyte systems, data centers, and cloud storage.
To make the new data fabric a reality, Infinidat announced InfiniBox Software Release 5 with Network Lock Manager (NLMv4) for NFSv3 filesystems, Active/Active Replication for 100% data availability, and Non-Disruptive Data Mobility for simplified workload relocation between any two InfiniBox systems. New InfiniBox hardware configuration options include 16 Gb Fibre Channel, 10Gb Ethernet, 32Gb FC Optional, 25 GbE Optional, NVMe-oF and Storage Class Memory (SCM) to provide faster cache expansion.
For future generations of multi-petabyte storage which can be in multiple geographic regions, on-premises, or in multiple clouds, Infinidat introduced InfiniVerse. It is a cloud-based, AI-driven advanced monitoring, predictive analytics and support platform. InfinVerse offers customizable dashboards for any InfiniBox systems, the ability to identify reclaimable capacity, forecast growth, model performance, and identify configuration issues that might impact performance or availability.
Infinidat First to Transform Petabyte-Scale Storage into On-Prem Services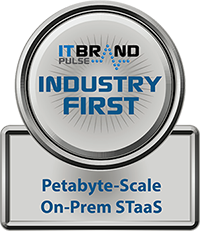 Infinidat also announced InfiniBox FLX and InfiniGuard FLX, the industry's first petabyte-scale, on-premises storage-as-a-service and backup-as-a-service.
The subscription programs allow customers to pay for what they use, as they need it – scaling capacity up, or down, as workloads grow, retire, or relocate to other systems. Both programs provide 100% data availability guarantees and include a full hardware refresh (controllers and media) every 3 years, included in the subscription cost.
On-premises storage-as-a-service offers the best of both worlds. Organizations get to keep their precious data on-site, while paying only for what they use. IT Brand Pulse research indicates that -as-a-service will become the dominant form of on-prem enterprise storage within 5 years. With this announcement, Infinidat is establishing early incumbency for STaaS at the high end of the enterprise storage market.
InfiniBox FLX® Storage Infrastructure-as-a-Service
InfiniBox FLX is an entirely new concept in the delivery of enterprise storage infrastructure for organizations requiring storage up to multi-petabyte scale. Until now, the faster-than-all-flash performance and industry-leading reliability and availability that made InfiniBox an industry leader were only available via a capital expense (CapEx) purchase. With InfiniBox FLX, you get the storage capacity you need—on-demand—through a subscription model that includes:
The capacity and capacity planning to meet your evolving needs

Configuration of InfiniBox FLX on-premises hardware and software

Data migration, without risk, between InfiniBox FLX managed systems

24×7 infrastructure management, monitoring, and global support

100% data availability guarantee
All Inclusive Subscription
Infinidat conducts a rigorous analysis of your current and future capacity and performance requirements in order to configure your InfiniBox FLX solution. All hardware, software licenses, warranties, monitoring, and support are covered in an all-inclusive subscription agreement.
Pay-as-you-go Scalability
InfiniBox FLX enables you to pay as you go, up and down, with monthly charges based on provisioned capacity. If you are anticipating significant growth or variability in data consumption, InfiniBox FLX offers the flexibility and agility to only pay for the capacity you use, as you need it.
Risk Mitigation and Cost Avoidance
Data migration between InfiniBox FLX systems, today and in the future, enables you to minimize or eliminate the risk associated with storage upgrades, reconfigurations, and migrations.
Complete Refresh Every 3 Years
Completely refresh your entire InfiniBox FLX System with the latest hardware and software every three years without downtime, migration risk, or additional cost.
100% Data Availability Guarantee
Infinidat is able to provide a 100% data availability guarantee based on their industry-leading track record of seven nines availability. Any data unavailability that impacts your business is remedied with a credit towards the next monthly invoice for the entire affected system.