IT Pros Vote 2021 Brand Leaders for Servers
AWS and Intel Voted Market Leader in Two Categories; Nutanix New Market Leader; VMware vSphere Repeats; Dell and HPE Defend Market Leadership for Rackmount and Blade Servers.
SAN CLEMENTE, CA — June 16, 2021— IT Brand Pulse, a trusted source for research, data and analysis about data center infrastructure, today announced the results of 2021 IT pro voting for server product leaders. Once a year the independent, non-sponsored surveys asks which vendors are perceived to be the market, price, performance, reliability, service and support, and innovation leader for eleven server-related product categories.
"In this survey round, IT pros favored tried and trusted brand leaders," said Frankie Berry, IT Brand Research Analyst at IT Brand Pulse. "Amazon Web Services demonstrated the power of their brand with IT pros voting the company Market Leader in the nascent arm-Based CPU and Kubernetes Management Platform categories."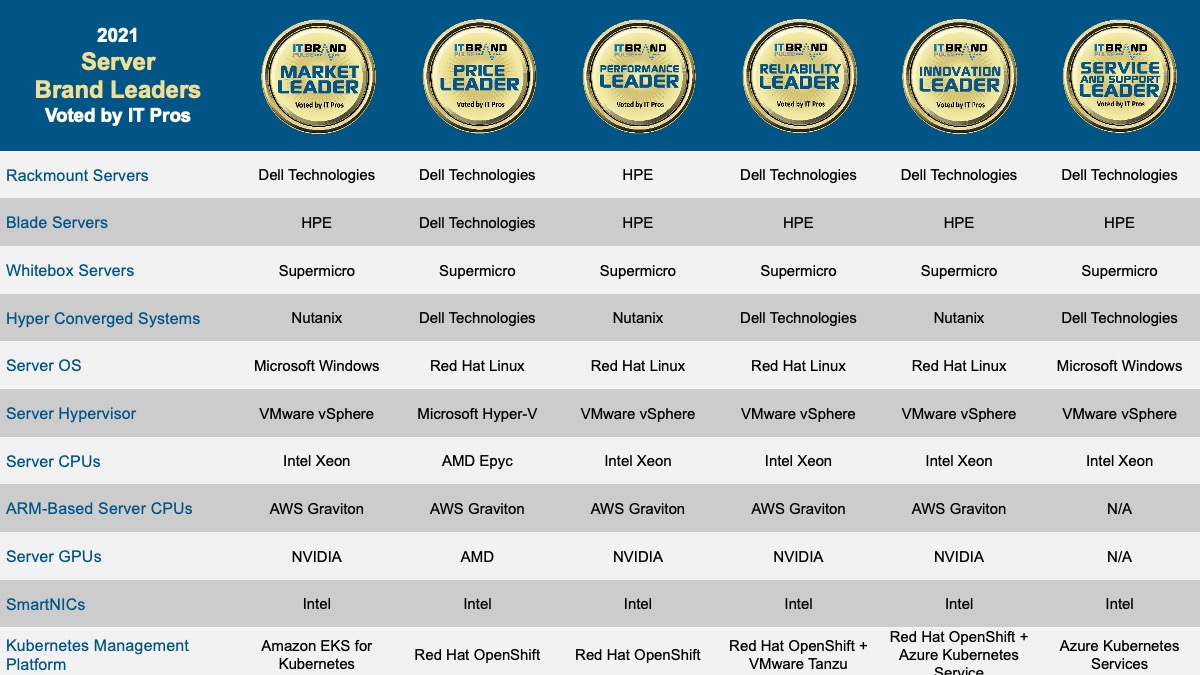 Survey Highlights
Rackmount Servers
In one of the most competitive segments of data center infrastructure, Dell and HPE battle for market share and brand leadership for rackmount servers. In the 2021 brand leader survey, IT pros voted Dell the Market, Price, Reliability, Innovation, and Service & Support Leader. HPE was voted the Performance Leader.
Blade Servers
Turning the tables on the results of the rackmount server survey, IT pros selected HPE as the Market, Price, Reliability, Innovation, and Service & Support Leader. Dell was selected Price Leader for blade servers once again, preventing a clean sweep of the category by HPE.
White Box Servers
IT pros strongly expressed their preference for the Supermicro brand by selecting the company as the leader in all six categories. Half to 64% of IT pros consistently voted Supermicro a category leader while the highest second place vendor received barely more than 15%.
Hyper Converged Systems
Nutanix and Dell dominated voting for hyperconverged system leadership. Nutanix was chosen as the Market, Performance, and Innovation leader, suggesting that IT pros value performance and innovation in their perception of market leader. IT pros recognized Dell as the Price, Reliability, and Service & Support Leader for hyper converged systems.
Server CPUs
IT pros repeated the voting they have delivered in every server CPU brand leader survey since 2009. Intel was selected as the brand leader in every category except price. Over 80 percent of surveyed IT pros recognize Intel as the Market Leader.
arm-Based Server CPUs
AWS was able to dethrone Marvell's ThunderX in this year's voting, sweeping all six categories of brand leadership. The strong brand recognition and innovative spirit of AWS resulted in 64 percent of IT pros selecting Graviton as Market Leader for AWS-based server CPUs.
Server GPUs
NVIDIA was chosen as the Server GPU leader in every category except Price. We expect this trend to continue for the foreseeable future. AMD was able to secure Price Leader recognition for its Epyc GPUs in a category historically dominated by NVIDIA. Perhaps crypto miners are hoping to get more bang for their buck.
Server OS
Windows has overshadowed Linux in terms of market share and brand leadership. In the 2021 IT brand leader survey, Red Hat (Linux) was voted brand leader in 4 of 6 categories. However, Microsoft (Windows) was voted the Market leader and Service & Support leader. This demonstrates that service and support define market leadership for server operating systems. While Red Hat was not able to secure the Market Leader votes for Server OS, IT pros voted the company Price, Performance, Reliability, and Innovation Leader.
Kubernetes Management Platform
Container management platforms are a key battleground because they will control most workloads in the world's data centers. Today there is no clear brand leader with IT pros choosing Amazon, Microsoft, and Red Hat as leaders in at least one category. The strong AWS brand resonates with IT pros, who selected Amazon EKS for Kubernetes as Market Leader.
Microsoft's Azure Kubernetes Service received recognition from IT pros as an Innovation Leader, and Service and Support Leader in this competitive category. Red Hat OpenShift received strong recognition from IT pros in the Kubernetes Management Platform with recognition as Price, Performance, Reliability, and Innovation Leader.
Smart NICs
Once again, IT pros voted for Intel across all brand leadership categories for Smart NICs. Just under 70 percent of IT pros voted Intel Market Leader, leaving a wide margin between second place Mellanox with 20 percent of the votes.
View the complete survey report for an in-depth look at the survey results.  
Global IT Pro respondents to recent surveys include:  
American Airlines – American Express – Adobe Systems – Advocate Health Care  – Aetna – AF Group – Air Force Space Command – Allstate – AT&T – BAAQMD – Bank of America – Beckman Coulter – Boeing – Baylor College of Medicine – Bosch – Boston Scientific – Brinker International – CA Department of Insurance – Capital Group – Caesars Entertainment – Celanese Corporation – Citibank – City of Los Angeles – Combined Insurance – Coca-Cola  – Colliers – Comcast – Cox Enterprises – CPS Energy – Daiwa Capital Markets – Dana Foundation – Daybreak Game Co. –  Disney – DLL Group – Dow Corning Corp – Duke University – Edmunds – Encore Capital Group – EnerCare – Ensco – Exelon Corp. – ExxonMobil – EY – FedEx – First Acceptance Corp. – Four Seasons –  Franklin Templeton – General Electric – General Motors – Great-West Life – GWDG – HCSC – Kaiser Permanente – Kingston – LANL – Library of Congress  – Lockheed Martin – LRZ – Michael Kors – MIT IS&T –  Morgan Stanley – NASA Ames Research Center – NIH – NBC/Universal/Comcast – NCR – Optum – Orbital ATK – Polycom, Inc. – Quicken Loans – Raytheon – Ricoh – Ryanair  – Schindler Elevator Corp. Shaw Industries – Siemens Corp. –  Snyder's-Lance  – Spectrum Brands – Stanford University – Staples – Starbucks – States of AL CT, LA and MT – Time Warner – TMZ – Torchmark – Tiger Corporation – T-Mobile – UCLA – United Health Group – U.S. Dept. of Labor  – U.S. Navy – UPS – Veolia – Verizon – Walmart – Weizmann Institute of Science – West Pharmaceutical Services – Yale – Yazaki…and many more.
About IT Brand Pulse
IT Brand Pulse is a trusted source of research, data and analysis about private, public and hybrid cloud IT infrastructure, including servers, storage, networking and operating platforms. Learn more at itbrandpulse.com.
Media Contact:
Frankie Berry
Managing Partner
IT Brand Pulse
949-713-2313