IT Pros Vote 2019 Servers Brand Leaders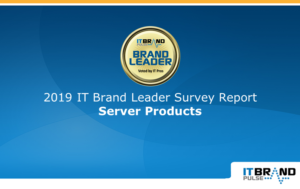 Dell EMC selected as Market Leader for volume Rackmount Servers and Hyper-Converged Systems; IT pros vote Intel as Market Leader for Server CPUs, LAN-on Motherboard, and SmartNICs; Red Hat Linux Chosen as Server OS leader in 4 of 6 brand categories.

SAN CLEMENTE, CA—July 15, 2019— IT Brand Pulse, a trusted source for research, data and analysis about data center infrastructure, today announced the results of 2019 IT pro voting for servers brand leaders. Once a year the independent, non-sponsored survey asks which vendors are perceived to be the market, price, performance, reliability, service and support, and innovation leader for eleven server-related product categories.
"This round of surveys was highlighted by new types of processors whose presence are expected to grow inside servers" said Frank Berry, CEO and Sr. Analyst, IT Brand Pulse. "Marvell was chosen as the leader for Arm-based server CPUs, NVIDIA for server GPUs, and Intel for both server LOM and SmartNICs."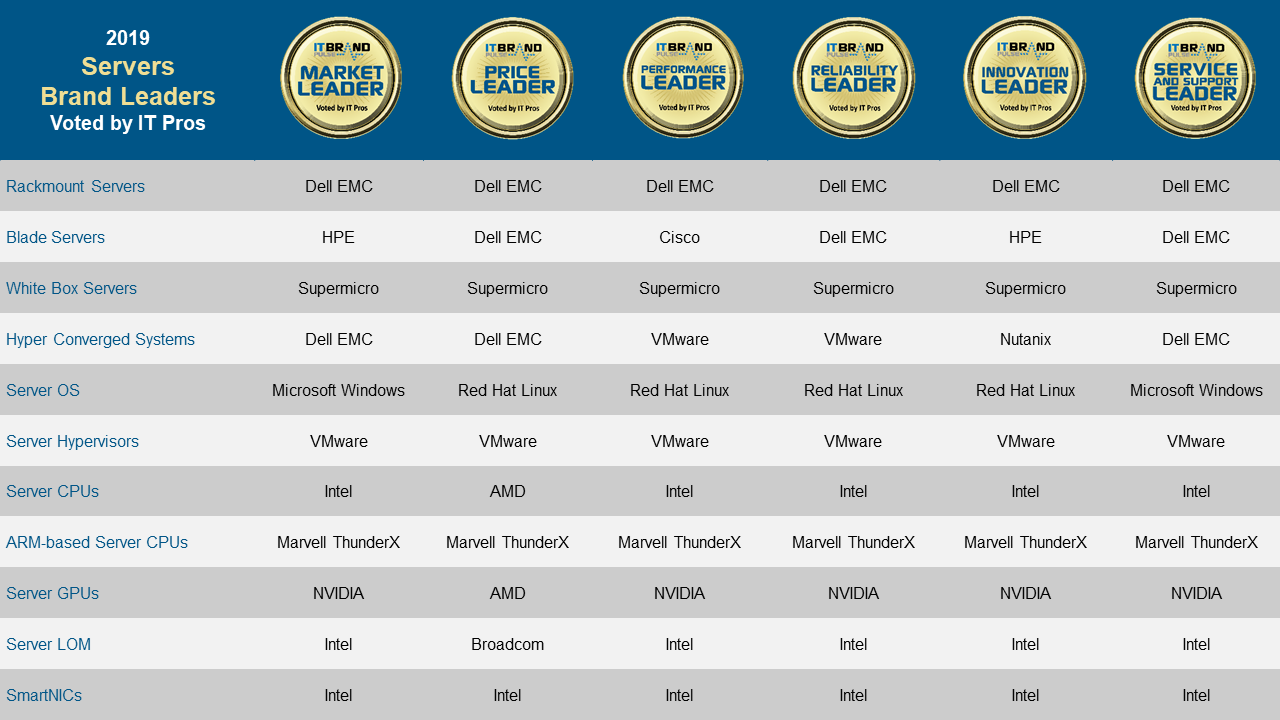 Dell EMC
Rackmount Servers
After a brief hiatus in 2018, IT Pros have once again voted Dell EMC the Market leader for Rackmount Servers, making it their third time in seven years. IT Pros voted for Dell EMC as leader across the board for Price, Performance, Reliability, Innovation, and Service and Support. HPE was a close second for Market Leader, followed by Cisco in third.
Hyper Converged Systems
In this newly added survey category, Dell Technologies was represented by Dell EMC and VMware. Together the companies won votes of IT pros in 5 of 6 categories of brand leadership. Hyperconverged pure-play Nutanix, who has recently suffered from negative press related to their financial performance, was selected as the Innovation Leader.
HPE
Blade Servers
IT Pros continue to vote HPE the Market leader for Blade Servers, making this their ninth consecutive Market Leader title. HPE was also named the Innovation leader. Second place Market leader, Dell EMC, was voted the leader for Price, Reliability, and Service and Support; while third place Market leader, Cisco, came out on top as Performance leader.
Intel
Server CPUs
Intel proved to be the favorite among IT Pros for Server CPUs yet again—voted as eight-time Market leader, Performance, Reliability, Innovation, and Service and Support. Intel almost had a clean sweep, but AMD managed to pull out just ahead to secure the Price leader spot. Following from a distance, IBM was named second for Market Leader with AMD as third.
Server LOM
For the sixth year in a row, IT Pros recognized Intel as the Server LOM Market leader; as well as Performance, Reliability, Innovation, and Service and Support. Broadcom was selected as Price leader and placed second as Market leader, trailed by third place Mellanox.
SmartNICs
In the new survey category for network accelerators, IT Pros voted for Intel as Market, Price, Performance, Reliability, Innovation, and Service and Support Leader. Second and third place votes for Market leader went to Mellanox and BittWare.
Marvell
Arm-based Server CPUs
With last year's brand leader Qualcomm dropping out of the market, Marvell ThunderX was recognized by IT Pros as the Market, Price, Performance, Reliability, Innovation, and Service and Support leader for Arm-based Server CPUs. Ampere eMag was voted second place all around.
"Marvell is honored to be recognized by IT professionals worldwide as the brand leader across all categories for Arm-based server CPUs," said Gopal Hegde, vice president and general manager, Server Processor Business Unit at Marvell Semiconductor, Inc.  "Marvell® ThunderX® processors, based on the Arm®v8-A architecture, bring industry-leading compute and memory performance and technology innovation backed by a rich ecosystem. As the most widely supported and deployed Arm-based server processor today, Marvell ThunderX processors power applications that range from high-performance cloud computing all the way to the network edge."
Microsoft Windows
Server OS
In a major change from previous surveys, Red Hat was voted the leader in 4 server OS brand leader categories: Price, Performance, Reliability, and Innovation. Red Hat HP-UX and Oracle Solaris tied for third. Microsoft held onto their Server OS Market title for the seventh straight year while also being voted the leader for Service and Support.
NVIDIA
Server GPUs
As expected, NVIDIA dominated IT pro voting and was chosen Market leader for the third year in a row, along with being named the leader for Performance, Reliability, Innovation, and Service and Support. Intel finished second for Market while AMD came in third; although, AMD managed to snag the Price leader title.
Supermicro
White Box Servers
For the second year in a row, Supermicro swept IT pro votes as they dominated in the White Box Servers category—holding onto the titles for Market, Price, Performance, Reliability, Innovation, and Service and Support. Little-known, but high-volume suppliers to the big cloud vendors, Inventec and Quanta, tied for the second as Market leader.
VMware
Server Hypervisors
VMware runs the table again in voting for Server Hypervisor brand leader. VMware now has an eight-year steak in every category: Market, Price, Performance, Reliability, Innovation, and Service and Support. Microsoft placed second followed by Oracle in voting for Market Leader.
IT Brand Leader Surveys
IT Brand Pulse awards are the symbols for brand leadership. Winners are voted by global IT pros in surveys that are independent, non-sponsored research.  The surveys are designed to measure the pulse of brand leadership in specific product categories. Within each product category, respondents choose the overall Market Leader, as well as the leader in Price, Performance, Reliability, Service & Support, and Innovation. Voters are provided with a category description at the start of each product section, a randomized choice of vendor answers, and the ability to write in a vendor, if not listed.

Global IT Pro respondents to recent surveys include:  
American Airlines – American Express – Adobe Systems – Advocate Health Care  – Aetna – AF Group – Air Force Space Command – Allstate – AT&T – BAAQMD – Bank of America – Beckman Coulter – Boeing – Baylor College of Medicine – Bosch – Boston Scientific – Brinker International – CA Department of Insurance – Capital Group – Caesars Entertainment – Celanese Corporation – Citibank – City of Los Angeles – Combined Insurance – Coca-Cola  – Colliers – Comcast – Cox Enterprises – CPS Energy – Daiwa Capital Markets – Dana Foundation – Daybreak Game Co. –  Disney – DLL Group – Dow Corning Corp – Duke University – Edmunds – Encore Capital Group – EnerCare – Ensco – Exelon Corp. – ExxonMobil – EY – FedEx – First Acceptance Corp. – Four Seasons –  Franklin Templeton – General Electric – General Motors – Great-West Life – GWDG – HCSC – Kaiser Permanente – Kingston – LANL – Library of Congress  – Lockheed Martin – LRZ – Michael Kors – MIT IS&T –  Morgan Stanley – NASA Ames Research Center – NIH – NBC/Universal/Comcast – NCR – Optum – Orbital ATK – Polycom, Inc. – Quicken Loans – Raytheon – Ricoh – Ryanair  – Schindler Elevator Corp. Shaw Industries – Siemens Corp. –  Snyder's-Lance  – Spectrum Brands – Stanford University – Staples – Starbucks – States of AL CT, LA and MT – Time Warner – TMZ – Torchmark – Tiger Corporation – T-Mobile – UCLA – United Health Group – U.S. Dept. of Labor  – U.S. Navy – UPS – Veolia – Verizon – Walmart – Weizmann Institute of Science – West Pharmaceutical Services – Yale – Yazaki…and many more.
About IT Brand Pulse
IT Brand Pulse is a trusted source of research, data and analysis about private, public and hybrid cloud IT infrastructure, including servers, storage, networking and operating platforms. Learn more at itbrandpulse.com.
CONTACT:
Samantha Griffin
Manager, Brand Leader Research
IT Brand Pulse
949-713-2313