IT Pros Vote 2017 Server and Database Brand Leaders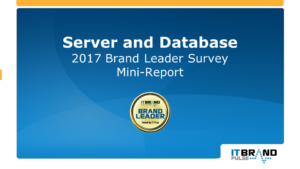 Dell EMC, HPE, Intel, Microsoft, Oracle, each named Market Leader in two product categories; Cisco, MongoDB, NVIDIA, Qualcomm, also claim Market Leader titles
SAN DIEGO, CA—March 16, 2017—IT Brand Pulse, a trusted source for research, data and analysis about data center infrastructure, today announced the results of the recent IT brand leader survey covering Server and Database products. Finding the right SQL DBA services for your business is not always easy. However, whether you are looking to get remote support for sql, or require holistic technical support, these are the products that stand the test of time.
IT professionals from around the world responded to the independent, non-sponsored survey in February 2017, asking which vendors they perceive to be leaders in these fourteen categories:
"This round of surveys is highlighted by Qualcomm establishing early brand leadership in the emerging market for ARM-based server processors," said Frank Berry, CEO and Senior Analyst at IT Brand Pulse. "Dell EMC, Cisco and HPE continue to dominate IT pro voting for rackmount and white box servers, integrated systems, blade servers and dense microservers, with NVIDIA, the inaugural Market Leader for our first-time category of Server GPUs."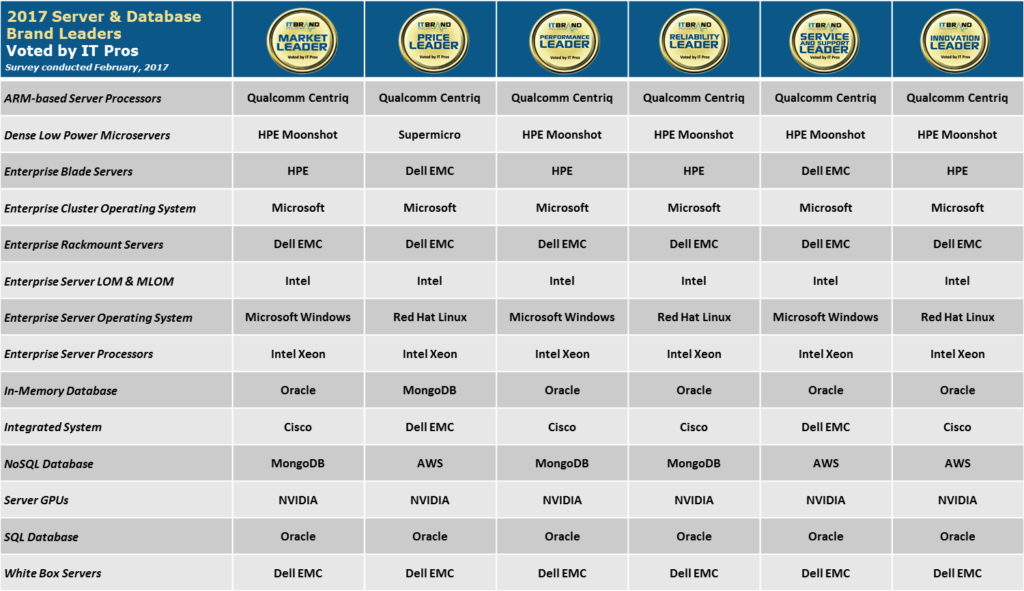 Dell EMC
Enterprise Rackmount Servers
In a mirror image of last year's results, Dell EMC secured all six leader titles for Enterprise Rackmount Servers (Market, Price, Performance, Reliability, Service & Support, and Innovation), once again leaving HPE as the overall runner-up, and Cisco in third.
White Box Servers
As one of only two vendors in this 2017 brand survey to accomplish sweeps, Dell EMC captured its second consecutive set of Market, Price, Performance, Reliability, Service & Support, and Innovation awards in White Box Servers, ahead of Supermicro and HPE, respectively.
"Dell EMC PowerEdge servers address the needs for both traditional and cloud-native applications while providing the foundation for the future," said Brian Payne, vice president, product management and product marketing, Dell EMC Server Solutions Division. "Our advanced portfolio of PowerEdge servers provide the performance, reliability and flexibility needed to realize the full value for next-generation, software-defined data centers. This award stands testimony to the fact that customers of all sizes are rapidly embracing PowerEdge systems particularly for emerging technology demands around workload optimization, real-time data insights, manageability and security."
HPE
Enterprise Blade Servers
HPE remains the Enterprise Blade Server Market Leader—for the seventh time—in the minds of IT professionals. Respondents also chose HPE as 2017 Performance, Reliability, and Innovation leader. Though Dell EMC garnered both Price and Service & Support, Cisco edged them out to take second place Market Leader.
"We're honored that IT Pros voted HPE BladeSystem as the Market Leader in enterprise blade servers for the seventh consecutive year," said Krista Satterthwaite, Director of Marketing, HPE Datacenter Infrastructure Group. "HPE continues to deliver innovation which drives significant advantages for customers on their path to a composable infrastructure by deploying HPE OneView. With a strong foundation of solutions to address demanding workloads, HPE is focused on helping customers streamline their operations for optimal business results."
Dense Low Power Microservers
HPE's Moonshot earned its third straight Market Leader achievement, along with Performance, Reliability, Service & Support, and Innovation. Supermicro, number two all-around in front of Quanta, disrupted the category lock by collecting Price Leader.
"HPE Moonshot converged server systems, powered by Intel Xeon technology, can be customized to individual needs for maximum efficiency and unprecedented business outcomes," said Dr. Tom Bradicich, VP and GM, Servers, Converged Edge, & IoT Systems at Hewlett Packard Enterprise. "It is a special honor to have the innovation and value of HPE Moonshot recognized by our professional customers as the leader across five award categories —Market Leader, Performance Leader, Reliability Leader, Service & Support Leader, and Innovation Leader."
Microsoft
Enterprise Server Operating System
For 2017, Microsoft again pulled in a pair of Market Leader wins for both Server OS (fifth time) and Cluster OS (second year). While the IT pro community also cast their ballots for Microsoft Windows as the Performance and Service & Support Leader in Enterprise Server OS, they split up the brand awards for this category by handing Price, Reliability, and Innovation to Red Hat's Linux (the Market runner-up; Oracle Solaris was third).
Enterprise Cluster Operating System
Microsoft grabbed all available leadership awards for Enterprise Cluster OS: Market, Price, Performance, Reliability, Service & Support, and Innovation; and as with Server OS, Red Hat filled in the overall second slot, preceding Oracle.
"We are honored to be recognized by IT professionals as the market leader in both the Enterprise Server and Cluster OS categories," said Mike Schutz, GM, Cloud Platform, Microsoft Corp. "Our server OS technology is designed with the IT professional in mind, and we know enterprises need trusted solutions that can match today's business demands. Windows Server 2016 delivers multiple layers of security, software-defined datacenter, and application innovation features to empower organizations to transform their applications and infrastructure, all backed with industry-leading services and support."
NVIDIA
Server GPUs
NVIDIA outpaced its rivals for the Market, Price, Performance, Reliability, Service & Support and Innovation leadership in Server GPUs, a newly-added survey category. Intel and AMD placed second and third as Market Leaders, accordingly.
"Artificial intelligence is a new computing model that requires new server architectures," said Roy Kim, Director of NVIDIA Tesla Product Management. "It is a true honor to be recognized by our customers and the industry at large as the market leader in this space. We are committed to driving further innovation into our GPU computing and AI platform to advance deep learning, machine learning and other compute-intensive technology for the benefit of all."
MongoDB
NoSQL Database
Interrupting Oracle's attempt at a triple database leader championship in this survey, IT pro voters instead picked MongoDB as Market, Performance, and Reliability leader for NoSQL Database. Last year's winner, AWS, took home the Price, Service & Support, and Innovation titles and was the second choice for Market Leader, in front of Microsoft.
"MongoDB is honored to be recognized by IT pros as the Market, Performance and Reliability leader in NoSQL Database," said Brooks Crichlow, VP of Product Marketing at MongoDB. "MongoDB is the most popular modern database choice because we help organizations develop, scale, and manage mission-critical applications in ways they never could before — whether you're accelerating the development of new applications on MongoDB, or migrating existing workloads to MongoDB from legacy platforms. Companies of all sizes are building mission-critical applications on MongoDB."
Oracle
In-Memory Database
With three database products represented in this survey, Oracle duplicated last year's outcome and prevailed in two. For In-Memory Database, Oracle received Market, Performance, Reliability, Service & Support and Innovation titles. Though Microsoft came in as the number two Market Leader, third-place MongoDB emerged on top of the Price chart to upset an Oracle potential sweep.
SQL Database
Oracle clinched SQL Database Market Leader for the fourth time, in addition to reaping all remaining titles of Price, Performance, Reliability, Service & Support and Innovation. Microsoft stayed ahead of AWS in the Market Leader results, to close out second.
Intel
Enterprise Server Processors
Intel repeated 2016's 80% vote share in Enterprise Server Processors to be chosen Market Leader for the sixth year in a row. Intel Xeon also picked up Price, Performance, Reliability, Service & Support, and Innovation. Like last time, IBM Power and AMD Opteron, followed from a distance in the second and third positions, accordingly.
Enterprise Server LOM & MLOM
In a less-lopsided victory than in the Server Processor category, Intel was selected as Enterprise Server LOM & MLOM Market Leader (fourth straight year), as well as Price, Performance, Reliability, Service & Support, and Innovation champ. Next, in the Market Leader line, were Broadcom and Mellanox, in that order.
Cisco
Integrated System
From a group loaded with 16 vendor choices, respondents to the Integrated System survey copied 2016 and tapped Cisco for yet another year as Market, Performance, Reliability, and Innovation leader. Dell EMC was singled-out for Price and Service & Support honors, and rounded out the number two Market position, with Nutanix in third.
Qualcomm
ARM-based Server Processors
ARM-based Server Processor was yet another new product category mixed into the hundreds of IT Brand Pulse leader surveys, and this one saw Qualcomm seize nearly 70% of the Market Leader voting. Qualcomm Centriq—which was also the preference for Price, Performance, Reliability, Service & Support and Innovation—kept the Market lead ahead of Marvell Armada and Cavium ThunderX, the number two and three finishers.

IT Brand Leader Surveys
IT Brand Pulse awards are the symbols for brand leadership. Winners are voted by global IT pros in surveys that are independent, non-sponsored research. The surveys are designed to measure the pulse of brand leadership in specific product categories. Within each product category, respondents choose the overall market leader, as well as the leader in price, performance, reliability, service and support, and innovation. Voters are provided with a category description at the start of each product section, a randomized choice of vendor answers, and the ability to write-in a vendor, if not listed.

Global IT Pro respondents to recent surveys include:
A.F Ferguson (PwC) – Alere – AmeriGas – American Airlines – American Eagle Outfitters – Anthem – AT&T – Ball Aerospace – Banco Piano – Bank of America – Banner Bank – BARC – Baylor College of Medicine – Beazley Group – BioTek Instruments – Bosch – Boston Scientific – British Petroleum – Capital Group – Capital One – City of L.A. – Coca-Cola – Columbia University Medical Center – Comcast – Cox Enterprises – CPX – Daybreak Game Co. – Delta Dental – DoITT, NYC – Detroit Medical Center – DLL Group – Dominion Energy – Duke University – EnerCare – ExxonMobil – EY- Federal-Mogul – Ford Motor Co. – Gannett – GE – Geotab – Hetero Drug – ISRG – ITG Inc – Jet Aviation General Dynamics) – Kaiser Permanente – Kia Motors America – Kingston – Komatsu Limited – Leidos – Library of Congress – Lockheed Martin – Lowe's – Macys – Markel Corporation – Marubeni America – McKesson Corporation – Mentor Graphics – Mimeo – MIT Media Lab – Morgan Stanley – Mount Sinai Health System – NASA Ames Research Center – National Bank Of Greece – NCR – NIH – NOAA – NYCT – Owens-Illinois – Optum – PPG Industries – Perrigo – Qorvo – Raytheon – Ricoh – Saputo – Shaw Industries – Spectra Energy – Spectrum Brands – Stanford University – Staples – Starbucks – Swagelok – TE Connectivity (Tyco) – Telus – The Church of Jesus Christ of Latter-Day Saints – The J.M. Smucker Company – Tiger Corporation – U.S. Bank – U.S. Air Force – U.S. Navy – UPS – Vantiv – Verizon – Walmart & many more…
About IT Brand Pulse
IT Brand Pulse is a trusted source of research, data and analysis about private, public and hybrid cloud IT infrastructure, including servers, storage, networking and operating platforms. Learn more at www.itbrandpulse.com.
CONTACT:
Cheryl Parker
Director & Senior AnaIyst, End User Research
IT Brand Pulse
949-713-2313