IT Pros Vote 2017 Networking & Scale-Out Storage Brand Leaders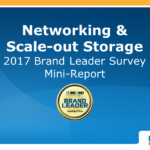 Cisco takes Market Leader in four product categories; Dell EMC tops two; Arista, Citrix, HPE, Intel, NetApp and Red Hat also named Market Leaders
SAN DIEGO, CA—April 26, 2017—IT Brand Pulse, a trusted source for research, data and analysis about data center infrastructure, today announced the results of the recent IT brand leader survey covering Networking and Scale-out Storage products.
IT professionals from around the world responded to the independent, non-sponsored survey in March 2017, asking which vendors they perceive to be leaders in these twelve categories:
"Highlighting this year's group of networking surveys was IT pro recognition of Arista as the Bare Metal OS brand leader," said Frank Berry, CEO and Sr. Analyst, IT Brand Pulse. "Stand-outs in the surveys covering scale-out storage were the continued recognition of Citrix for enterprise file sharing and the return of Red Hat as Object Storage brand leader."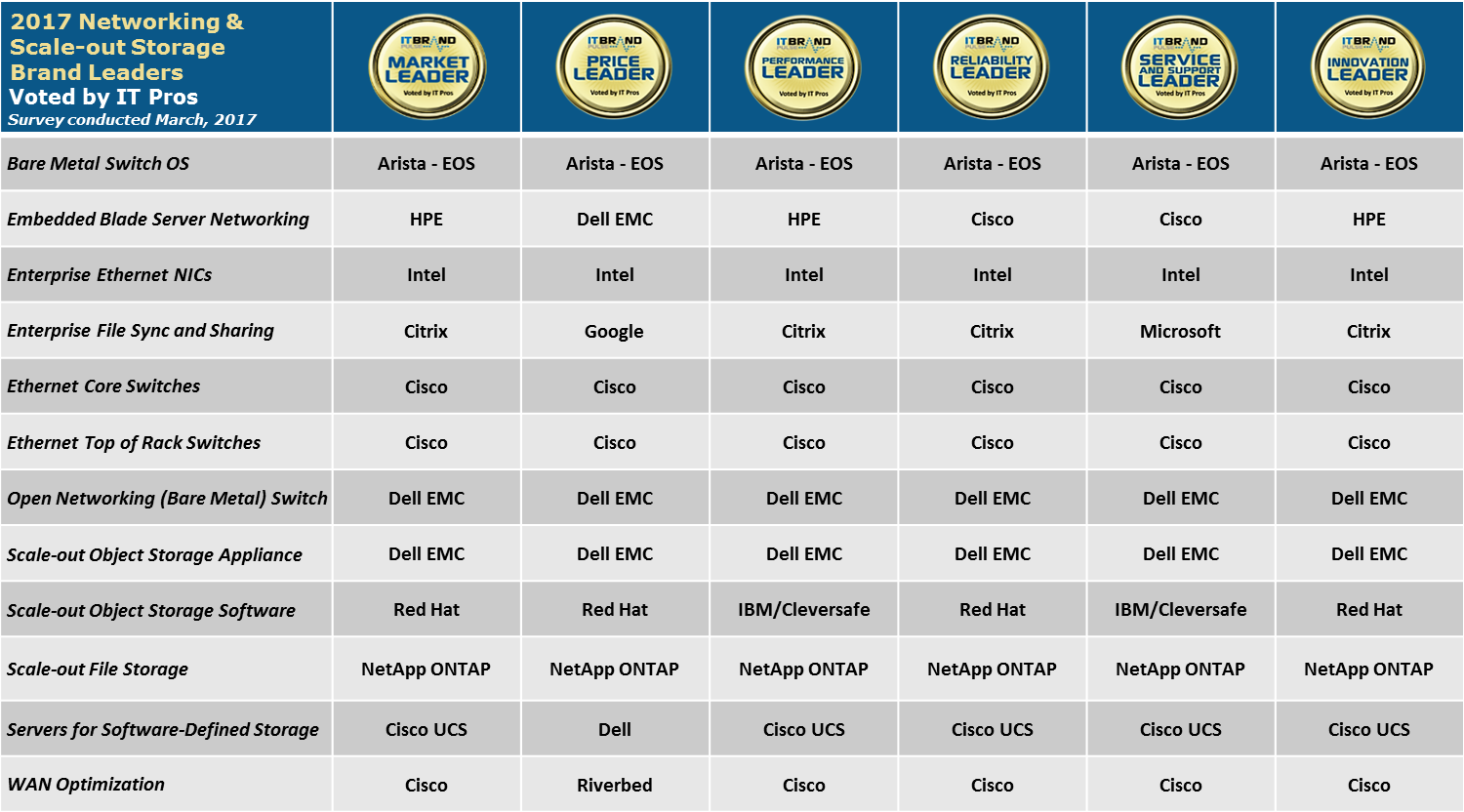 Cisco
"Cisco's commitment to provide our customers with best in class, open data center solutions is underscored by this year's findings in the IT Brand Pulse 2017 Brand Leader survey," said Dhritiman Dasgupta, vice president of product marketing for Cisco Data Center solutions.  "We're gratified that for many years running, Cisco has been voted IT Brand Pulse Brand Leader in the categories of Ethernet Core Switch, Ethernet Top of Rack Switch for our Nexus portfolio, and Servers for Software Defined Storage for our Unified Computing Systems product line.  We are also pleased to see a return to Brand Leader this year for Cisco's WAN optimization product portfolio."
Dell EMC
Open Networking (Bare Metal) Switch
For the third time, in as many brand surveys, Dell EMC headed up all six leader categories for Open Networking (Bare Metal) Switch: Market, Price, Performance, Reliability, Service & Support, and Innovation. HPE scored second all around, with Penguin Computing making its first appearance in the Market Leader top three.
"The future of the data center is Open and Dell EMC is a leader in Open Networking," said Adnan Bhutta, director of Global Open Networking Strategy, Dell EMC Networking. "As customers transform their networks as part of a software-defined data center, Dell EMC will continue to provide the critical innovation required to give customers choice and flexibility."
Scale-Out Object Storage Appliance
Dell EMC picked up the entire lot of Scale-Out Object Storage Appliance leadership honors—Market, Price, Performance, Reliability, Service & Support, and Innovation—for the fourth straight year. HDS and NetApp rounded out second and third, across-the-board, respectively.
Citrix
Enterprise File Sync & Share
For the third consecutive year, IT professionals cast their votes to Citrix as Market Leader for Enterprise File Sync & Share. Though Citrix was also their preference in the Performance, Reliability, and Innovation categories, the Price Leader award again went to Google, along with Service & Support to Microsoft (next in line for Market Leader, before Dropbox).
"This recognition from IT Pros demonstrates Citrix market leadership in enterprise file sync & share. We continue to help IT pros embrace the future of work, and reimagine how work gets done," said Greg Lissy, vice president, Enterprise Product Management, Citrix. "As we continue to innovate to deliver new and unique capabilities, Citrix is working closely with enterprise professionals to better serve their needs and help them stay ahead of the competition."
HPE
Embedded Blade Server Networking
HPE made it five in a row with this year's Market Leader results for Embedded Blade Server Networking and, once more, garnered Performance and Innovation titles. Cisco, the runner-up Market Leader, was recognized as Reliability and Service & Support leader; while Dell EMC walked off with Price.
"We are excited to continue being recognized as the blade networking market leader" said Krista Satterthwaite, Director of Marketing, HPE Datacenter Infrastructure Group.  "HPE's blade networking portfolio enables significant advantages for our customers on their path to Composability, by simplifying infrastructure, optimizing bandwidth utilization and enabling powerful management from HPE OneView. HPE empowers customers with flexible and agile solutions to help boost their business results and increase their productivity."
Intel
Enterprise Ethernet NICs
Intel, for the sixth straight year in Enterprise Ethernet NICs, outpaced its closest Market Leader rival (second-place Broadcom) and went on to collect Price, Performance, Reliability, Service & Support and Innovation. Cavium/QLogic took third.
"Intel deeply appreciates the honor bestowed by our customers in continuing to recognize our long-standing efforts to deliver high quality Ethernet adapters," said Mo Sanchez, Director of Product Management for Intel's Networking Division.  "Intel has been on the forefront of Ethernet solutions for over three decades."
NetApp
Scale-Out File Storage
NetApp's ONTAP data management software swept the 2017 Market, Price, Performance, Reliability, Service & Support and Innovation leader charts for Scale-Out File Storage, passing up two-time reigning Market Leader champ, EMC (now Dell EMC, which finished in the second slot). HPE was third.
"IT leaders are pressured to harness today's wealth of data and create new business opportunities in the digital era—all with limited time, skills, and budget. NetApp's approach to data management helps customers unleash the full potential of their data on premises and in the cloud. We are honored to be recognized for our data management leadership," said Brett Roscoe, vice president, Product, Solution and Services Marketing, NetApp.
Red Hat
Scale-Out Object Storage Software
In the most crowded field for IT pro voters to select from in this year's survey (fourteen vendor choices in Scale-Out Object Storage Software), Red Hat bested the Market Leader competition for the third time, and was handed Price, Reliability and Innovation awards. IBM/Cleversafe—which won the top prize in this category in 2016—earned Performance and Service & Support, staying ahead of third-place Scality for Market Leader.
"Red Hat is pleased to be recognized by the IT industry as a leader in scale-out object storage software," said Neil Levine, Director, Product Management, Storage, Red Hat. "Designed from the ground up for web-scale object storage and cloud infrastructures, Red Hat Ceph Storage lowers the cost of storing enterprise data and increases customers' ability to manage their exponential data growth— efficiently, flexibly, and automatically. Delivered in one self-healing, self-managing platform with no single point of failure, Red Hat Ceph Storage manages data on a single distributed cluster and provides interfaces for object-, block-, and file-level storage."
Arista
Bare Metal Switch OS
Arista EOS unseated Cumulus' 2015 and 2016 hold on the Bare Metal Switch OS category to win big this year; delivering first as Market, Price, Performance, Reliability, Service & Support, and Innovation leader. Cumulus Networks was second, overall, with Big Switch in third.

IT Brand Leader Surveys
IT Brand Pulse awards are the symbols for brand leadership. Winners are voted by global IT pros in surveys that are independent, non-sponsored research.  The surveys are designed to measure the pulse of brand leadership in specific product categories. Within each product category, respondents choose the overall market leader, as well as the leader in price, performance, reliability, service and support, and innovation. Voters are provided with a category description at the start of each product section, a randomized choice of vendor answers, and the ability to write in a vendor, if not listed.

Global IT Pro respondents to recent surveys include:  
AmeriGas – American Airlines – Anthem – AXIS Capital – AT&T – Ball Aerospace – Banco Piano – Bank of America – Banner Bank – Bancolombia – BARC – Baylor College of Medicine – BC Liquor Distribution Branch – Bosch – Boston Scientific – British Petroleum – Capital Group – Chanel – CME Group – Coach- Coca-Cola  – Colliers – Continental Tire – Columbia University Medical Center – Cox Enterprises – CSC- Cypress Semiconductor – Daybreak Game Co. –  Detroit Medical Center – DLL Group – Dominion Energy – Duke University – EnerCare – Estee Lauder – Expedia – ExxonMobil – EY- Federal-Mogul – Gannett – General Electric – General Motors – Hetero Drug –  JBS USA – Johns Hopkins Applied Physics Laboratory – Kaiser Permanente – Kia Motors America – Kingston – Komatsu Limited – Kroger Co. – Leggett & Platt – Leidos  – Lockheed Martin – Lowe's – Macys – Magellan Health – Marubeni America – McKesson Corporation – Mentor Graphics – Mimeo –  Morgan Stanley – Mount Sinai Health System – NASA Ames Research Center – National Bank Of Greece – NBC/Universal/Comcast – NCR – NIH – NOAA – NYCT – Owens-Illinois – Optum – PPG Industries – Perrigo – Qorvo – Quicken Loans – Raytheon – Ricoh – Saputo – Shaw Industries – Spectra Energy – Spectrum Brands – Stanford University – Staples – Starbucks – Swagelok – TE Connectivity (Tyco) – Telus – Texans Credit Union – Tiger Corporation – T-Mobile – United Health Group – U.S. Bank – U.S. Air Force – U.S. Navy – UPS – Vantiv – Walmart – Wawanesa – Williams Companies, and many more…
About IT Brand Pulse
IT Brand Pulse is a trusted source of research, data and analysis about private, public and hybrid cloud IT infrastructure, including servers, storage, networking and operating platforms. Learn more at www.itbrandpulse.com.
CONTACT:
Cheryl Parker
Director & Senior AnaIyst, End User Research
IT Brand Pulse
949-713-2313