IT Pros Vote 2017 Networked Storage Brand Leaders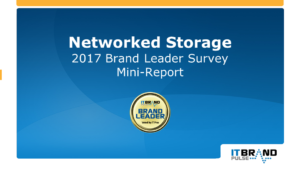 Dell EMC chosen Market Leader in three product categories; Broadcom/Emulex, NetApp & Quantum each capture two; Brocade, Cisco, Seagate, also selected for titles
SAN DIEGO, CA—February 1, 2017—IT Brand Pulse, a trusted source for research, data and analysis about data center infrastructure, today announced the results of the recent IT brand leader survey covering Networked Storage products.
IT professionals from around the world responded to the independent, non-sponsored survey in January 2017, asking which vendors they perceive to be leaders in these twelve categories:
"The results of this year's networked storage surveys reflect the market share success of companies like Cisco, Dell EMC, NetApp and Quantum in their respective strongholds," said Frank Berry, CEO and Senior Analyst at IT Brand Pulse. "The results also show strength of the Broadcom brand which for the first time overcame perennial leader QLogic in the Fibre Channel HBA category."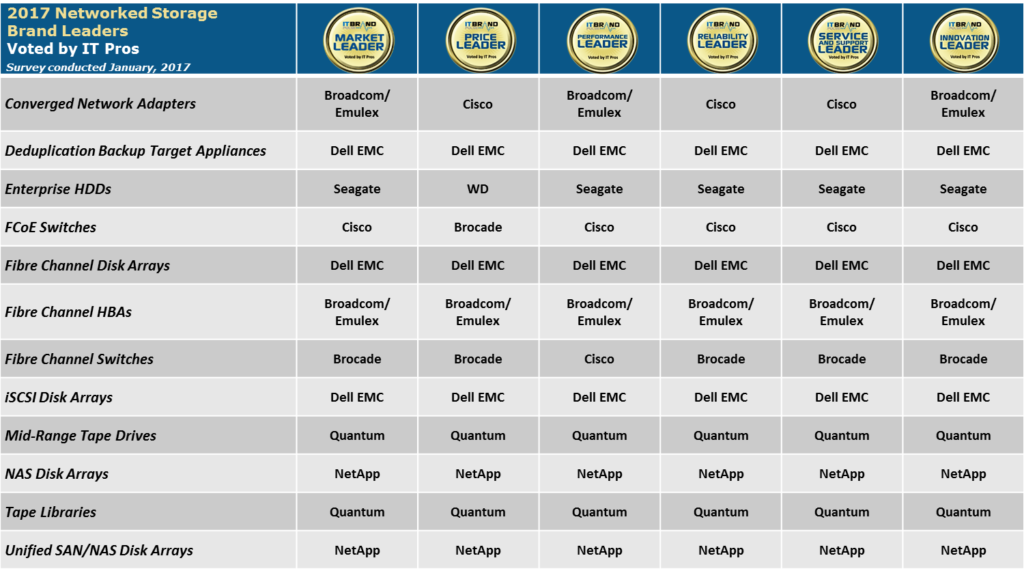 Dell EMC
iSCSI Disk Arrays
Dell EMC, along with the acquisition of EMC (last year's runner-up in this category), once again topped the iSCSI Disk Array charts by winning a seventh straight Market Leader honor, as well as all remaining titles (Price, Performance, Reliability, Service & Support, and Innovation). With Dell and EMC merged, NetApp moved up a notch from 2016 to take second-place Market leadership, with HPE next in line.
Fibre Channel Disk Arrays
Combining forces in yet another seven-year-in-a-row victory, Dell EMC picked up where EMC left off as the dominant champ in Fibre Channel Disk Arrays. Respondents also chose Dell EMC as the Price, Performance, Reliability, Service & Support, and Innovation leader, besting both NetApp and HPE—the number two and three leaders across the board, respectively.
Deduplication Backup Target Appliances
Dell EMC continued its sweep of all six leader awards—Market, Price, Performance, Reliability, Service & Support, Innovation—for Deduplication Backup Target Appliances (the third time in as many surveys). As in the other product categories, NetApp followed in the next Market position with HPE, third.
Broadcom/Emulex     
Converged Network Adapters
Back on top after a one-year hiatus as CNA Market Leader, Emulex (now part of the Broadcom/Avago family) regained this title in 2017, marking the sixth instance IT professionals have recognized them. Cisco (last year's choice but second place this year) did manage to disrupt the survey results by splitting up the other honors: Broadcom/Emulex as Performance and Innovation leader; Cisco for Price, Reliability, and Service & Support. Cavium/QLogic finished third in Market leader competition.
Fibre Channel HBAs
Broadcom/Emulex broke up a seven-year lock on Fibre Channel HBA Market leadership—held by Cavium/QLogic— and bolted to the top of Price, Performance, Reliability, Service & Support, and Innovation. Cavium/QLogic and ATTO rounded out the number two and three Market Leader award, in that order.
"We are honored to be recognized by our customers and peers as the industry leader in Fibre Channel HBAs.  Customers are modernizing their datacenters with solid-state arrays which require higher speed Fibre Channel networks.  A key reason why customers are selecting Emulex HBAs by Broadcom is because of our Dynamic Multi-threaded, Multi-core Architecture which offers up to a 3X performance advantage over the competition," said Brian Reed, vice president of marketing, Emulex Connectivity Division, Broadcom.
NetApp
NAS Disk Arrays
NetApp emerged as one of three dual-category Market Leader winners in the 2017 Networked Storage survey, capturing NAS Disk Arrays (7th year) and Unified SAN/NAS (4th year). For NAS Disk Arrays, voters also selected NetApp for Price, Performance, Reliability, Service & Support, and Innovation. Dell EMC ended up ahead of HDS, for all-around leadership.
Unified SAN/NAS Disk Arrays
Repeating Market Leader survey results from 2014, 2015 and 2016, NetApp again added Price, Performance, Reliability, and Innovation awards and, this year, took back Service & Support. Dell EMC easily nailed the second Market position, in front of HPE.
"NetApp unified hybrid storage arrays give enterprises the efficiency and agility they need to respond easily to changing requirements," said Adam Fore, director, Solutions and Product Marketing, NetApp. "We are honored to be recognized by IT practitioners who count on our highly scalable systems to manage their business critical workloads."

Seagate
Enterprise HDDs
By nearly a 2-to-1 margin, Seagate, outperformed second-place challenger (Western Digital) to capture its fifth Market Leader award for Enterprise HDDs.  Seagate was also named Performance, Reliability, Service & Support, and Innovation leader with WD collecting Price. HGST was the third Market finisher.
"Seagate is pleased to be recognized by IT Brand Pulse for the past five years as the top Enterprise HDD leader from this prestigious group of Data Center professionals. It's in our DNA to engineer, build and deliver innovative, reliable high performing hard drives that meet the storage efficiency needs of both on-premise and cloud data centers worldwide", said Barbara Craig, Sr. Product Marketing Manager at Seagate Technology.

Cisco
FCoE Switches
Cisco seemingly has a complete monopoly on FCoE Switches, in the minds of respondents, increasing its run to eight years as Market Leader. In addition, Cisco earned Performance, Reliability, Service & Support, and Innovation. However, Price Leader continues to go to Brocade (since 2015) as well as the number two all-around slot, trailed by Juniper.
"Cisco is pleased to be recognized for leadership and innovation in FCoE Switches for the eighth year in a row," said Dhritiman Dasgupta, VP of Product Marketing for Cisco Data Center Solutions.  "FCoE is a central component in the Cisco Data Center portfolio, and helps to enable converged architectures through Cisco Unified Computing System (UCS), Cisco Nexus platforms, and Cisco MDS platforms."

Quantum
Mid-Range Tape Drives
Quantum—for the sixth time in as many surveys—scaled the Mid-Range Tape Drive leadership board, cleaning up honors for Market, Price, Performance, Reliability, Service & Support, and Innovation. IBM and Oracle pulled in the next two Market spots, accordingly.
Tape Libraries
A new leader surfaced for Tape Libraries as Quantum unseated reigning champion IBM to recoup the Market Leader title (lost in 2014) and tally a third year for this award. IT pros tapped Quantum for Price, Performance, Reliability, Service & Support, and Innovation. Overall runner-up IBM secured a comfortable margin over HPE.

Brocade
Fibre Channel Switches
Another seven-year Market Leader winner in these brand leader surveys, Brocade, also laid claim to Price, Reliability, Service & Support, and Innovation achievements for Fibre Channel Switches.  Cisco —the only other competitor listed—received Performance Leader.

IT Brand Leader Surveys
IT Brand Pulse awards are the symbols for brand leadership. Winners are voted by global IT pros in surveys that are independent, non-sponsored research.  The surveys are designed to measure the pulse of brand leadership in specific product categories. Within each product category, respondents choose the overall market leader, as well as the leader in price, performance, reliability, service and support, and innovation. Voters are provided with a category description at the start of each product section, a randomized choice of vendor answers, and the ability to write-in a vendor, if not listed.

Global IT Pro respondents to recent surveys include:
A.F Ferguson (PwC) – Alere – AmeriGas – American Airlines – Anthem – AT&T – Averitt Express – Bank of America – Banner Bank – BARC – Baylor College of Medicine – Beazley Group – BioTek Instruments – Bosch – Boston Scientific – British Petroleum – Caesars Entertainment – Capital Group – Capital One – City of Los Angeles – Coca-Cola – Columbia University Medical Center – Comcast – Cox Enterprises – CPX – Daybreak Game Co. – Delta Airlines – Delta Dental – Detroit Medical Center – DLL Group – Duke University – ELETRONORTE – ExxonMobil – FDIC – First Republic Bank – Ford Motor Co. – Gannett – Geotab – Hetero Drug – ISRG – ITG Inc –  Kaiser Permanente – Leidos – LDS Church – Library of Congress – Lockheed Martin – Lowe's – London Life insurance Company – Macys – Marubeni America – McKesson Corporation – Mentor Graphics – Michael Kors – Milliman – Mimeo – MIT Media Lab – Mood Media – Morgan Stanley – Mount Sinai Health System – NASA – National Bank Of Greece – NAVNETWARCOM – NCR – NIH – NOAA – NYCHA – Optum – PPG Industries – Perrigo – Quarles & Brady – Ricoh – Servpro – Shell Oil – Siemens – Social Security Administration – Stanford University – Staples – Starbucks – TE Connectivity (Tyco) – Telus – Tiger Corporation – U.S. Census – U.S. Navy – UPS – Verisk Analytics – Verizon & many more…
About IT Brand Pulse
IT Brand Pulse is a trusted source of research, data and analysis about private, public and hybrid cloud IT infrastructure, including servers, storage, networking and operating platforms. Learn more at www.itbrandpulse.com.
CONTACT:
Cheryl Parker
Director & Senior AnaIyst, End User Research
IT Brand Pulse
949-713-2313