IT Pros Vote 2017 AI and Cloud Brand Leaders
AWS named Market Leader in three product categories;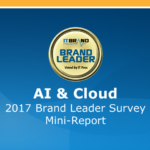 Cylance, Dell EMC, Symantec, Google, IBM Watson Analytics and Babylon also chosen Market Leaders
SAN DIEGO, CA—May 31, 2017—IT Brand Pulse, a trusted source for research, data and analysis about data center infrastructure, today announced the results of the recent IT brand leader survey covering AI & Cloud products.
IT professionals from around the world responded to the independent, non-sponsored survey in April 2017, asking which vendors they perceive to be leaders in these nine categories:
"2017 marks a turning point in IT pro perceptions as public cloud service providers were selected as market leaders for and backup and archive, servers, and enterprise storage," said Frank Berry, CEO and Analyst at IT Brand Pulse. "In the first of many AI-related surveys to come, Babylon, Cylance, Google and IBM were chosen as leaders for translation software, AI-based end-point protection, translation as a service, and machine learning as-a-service."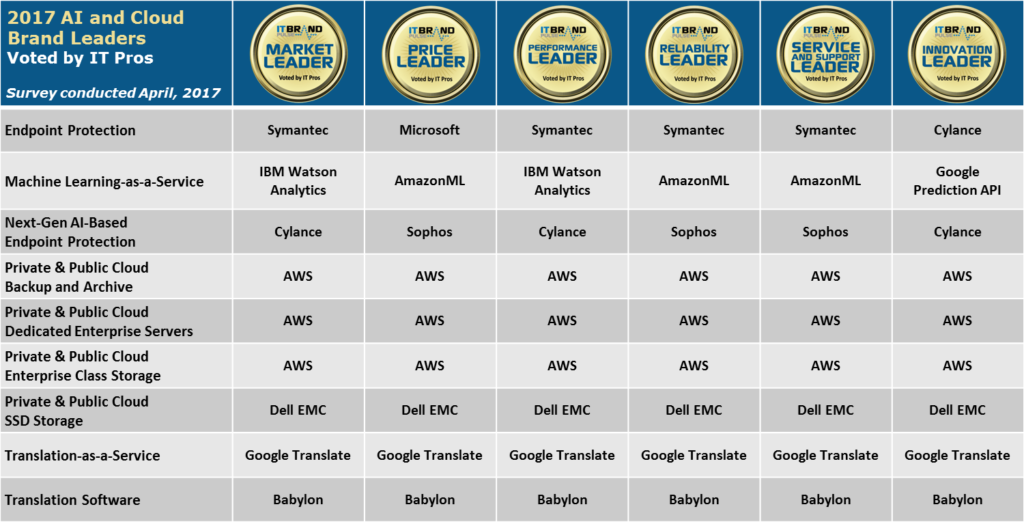 AWS
Private & Public Cloud Backup and Archive
In the last two years that the private-versus-public Cloud Backup survey has been conducted, AWS trailed in second or third place for Market leadership. Fast-forward to 2017: AWS not only claimed the Market Leader award, but went on to sweep the entire product category (Price, Performance, Reliability, Service & Support, and Innovation). Microsoft Azure Cloud Services stayed just ahead of Veeam—the 2016 co-champion with EMC—to finish as the number two Market Leader.
Private & Public Cloud Dedicated Enterprise Servers
AWS unseated another two-time winner (HPE) in the Private & Public Cloud Dedicated Enterprise Servers to gain this year's Market Leader. AWS also secured Price, Performance, Reliability, Service & Support, and Innovation. Microsoft Azure Cloud Services came in as Market Leader runner-up, in front of HPE.
Private & Public Cloud Enterprise Class Storage
Though AWS earned three titles in last year's Private & Public Cloud Enterprise Class Storage survey, Market Leader was not among the accolades. In 2017, AWS leaped past reigning EMC (now Dell EMC) by nearly a 2-to-1 margin to take Market leadership. In addition, IT professionals voted AWS to top the remaining five categories: Price, Performance, Reliability, Service & Support, and Innovation. Dell EMC—slipping to second place Market Leader this year—managed to best the other dominant challenger in these Cloud surveys, Microsoft Azure Cloud Services, which filled in the third spot.

Dell EMC
Private & Public Cloud SSD Storage
Dell EMC interrupted an AWS clean sweep of the private/public category matchups by holding on to its 2016 achievements for Private & Public Cloud SSD Storage. Respondents picked Dell EMC's All Flash Arrays for Market, Price, Performance, Reliability, Service & Support, and Innovation awards. NetApp/SolidFire entered second place as Market Leader, with AWS following in third.

Cylance
Next-Gen AI-Based Endpoint Protection
In the first-ever brand leader survey for this product category, Cylance emerged as Market, Performance and Innovation Leader, while Sophos captured the Price, Reliability, and Service & Support honors. SentinelOne ended up in the number three Market Leader position, behind Sophos.
"Cylance is honored to be recognized as a leader in Next-Generation AI-based Endpoint Protection by IT Pros protecting their organizations' information every day," said Shaun Walsh, senior vice president of marketing at Cylance. "Based on years of training of our AI model, CylancePROTECT has been proven to predict and block even the world's most advanced malware before a single endpoint in an organization is infected."

Symantec
Endpoint Protection
Like its AI-related counterpart, Endpoint Protection is another newly-added survey segment for 2017. Symantec carried its security-brand familiarity to land Market, Performance, Reliability, and Service & Support leadership; leaving the Innovation title to Cylance (which it also achieved in the AI category), and Price to Microsoft. McAfee/Intel was next for Market Leader; Cylance was third.
"As we've seen with the WannaCry ransomware attack, multi-layered endpoint protection is more crucial than ever," said Bradon Rogers, Senior Vice President, Worldwide Sales Engineering and Product Strategy at Symantec. "In leading a shift to advanced endpoint capabilities, such as machine learning and zero-day exploit protection, Symantec Endpoint Protection has proven to stay ahead of attackers and provide full protection. It is an honor to be recognized by IT Brand Pulse for our commitment to ensuring our customers stay safe."

IBM Watson Analytics
Machine Learning-as-a-Service
Artificial intelligence—with its many applications—is clearly one of the most compelling industries in technology today. Companies like Salesforce have found this out too. In the Machine Learning-as-a-Service category, end users split their opinions on leader distinctions: IBM Watson Analytics for both Market and Performance; AmazonML (the Market runner-up, preceding Google) for Price, Reliability, and Service & Support; Innovation to Google Prediction API.
Google
Translation-as-a-Service
For Translation-as-a-Service, global IT pros cast more than 50% of their votes to Google Translate in each of the six leader categories: Market, Price, Performance, Reliability, Service & Support, and Innovation. Microsoft Translator and BabelFish rounded out the top three, respectively.
Babylon
Translation Software
Garnering nearly half of the ballots for Translation Software, Babylon collected all available awards (Market, Price, Performance, Reliability, Service & Support, and Innovation). OneSky and NeuroTran finished second and third as Market Leader, in that order.

IT Brand Leader Surveys
IT Brand Pulse awards are the symbols for brand leadership. Winners are voted by global IT pros in surveys that are independent, non-sponsored research. The surveys are designed to measure the pulse of brand leadership in specific product categories. Within each product category, respondents choose the overall market leader, as well as the leader in price, performance, reliability, service and support, and innovation. Voters are provided with a category description at the start of each product section, a randomized choice of vendor answers, and the ability to write in a vendor, if not listed.

Global IT Pro respondents to recent surveys include:
Aera Energy – Arrow Electronics – AT&T – BAAQMD – Baird – Ball Aerospace – Banco Piano – Bank of America – Baylor College of Medicine – BC Liquor Distribution Branch – BJ's Wholesale Club – Bosch – Boston University – BT Group – Capital Group – Chanel – Christus Health – City of Los Angeles – City of New York – Coca-Cola – Colliers – Connecticut Children's Medical Center – Continental Tire – Columbia University Medical Center – Cox Enterprises – CSC- Cypress Semiconductor – Daybreak Game Co – Delta Airlines – DLL Group – Dominion Energy – Duke Energy – EnerCare – Expedia – EY – Federal Express – Foley & Lardner – Gannett – General Electric – General Motors – Hetero Drug – Intuitive Surgical – Johns Hopkins Applied Physics Laboratory – Kaiser Permanente – Kia Motors America – Kingston – Komatsu Limited – Kroger Co – Lawson Products – Leggett & Platt – Leidos – Lockheed Martin – Lowe's – Marriott – Marubeni America – McKesson Corporation – Molex – Morgan Stanley – National Institute of Advanced Industrial Science and Technology – NASA Ames Research Center – NBC/Universal/Comcast – NCR – NOAA – NYU Langone Medical Center – Owens-Illinois – Optum – PPG Industries – Perrigo – Providence St. Joseph Health – Quicken Loans – Raytheon – Ricoh – Saputo – Shaw Industries – Shell Oil – Si Group – Spectrum Brands – Stanford University – Staples – Starbucks – Swagelok – TE Connectivity (Tyco) – Telus – Texans Credit Union – Tiger Corporation – T-Mobile – Travelport – United Health Group – U.S. Bank – Universal Parks and Resorts – USAF – US Navy – UPS – Università degli Studi di Milano – Vantiv – Walmart – Wawanesa – WebMD – West Pharmaceutical Services – and many more…
About IT Brand Pulse
IT Brand Pulse is a trusted source of research, data and analysis about private, public and hybrid cloud IT infrastructure, including servers, storage, networking and operating platforms. Learn more at www.itbrandpulse.com.
CONTACT:
Cheryl Parker
Director & Senior AnaIyst, End User Research
IT Brand Pulse
949-713-2313