2018 Brand Leader Survey – Servers for Software Defined Storage
Dell EMC Sweeps All Six Brand Leader Categories
SAN CLEMENTE, CA – April 5, 2018 – IT Brand Pulse, a trusted source for research, data and analysis about data center infrastructure, today announced the results of the recent IT brand leader survey covering Networking & Storage products.  IT professionals from around the world responded to the independent, non-sponsored annual survey in March 2018, asking which vendors they perceive to be leaders in these eleven categories:
Bare Metal Switch OS, Embedded Blade Server Networking, Enterprise File Sync and Sharing, Multi-Protocol Core Switches,
Multi-Protocol Top-of-Rack Switches, Open Networking Switch (Bare Metal Switch), Scale out Object Storage Appliance,
Scale out Object Storage Software, Scale-out File Storage, Servers for Software Defined Storage, WAN Optimization
"Servers for Software Defined Storage is a rapidly growing and ultra-competitive arena," said Frank Berry, CEO and Sr. Analyst, IT Brand Pulse. "In the 2018 brand leader survey, Dell EMC reclaimed IT Pro votes for market leader."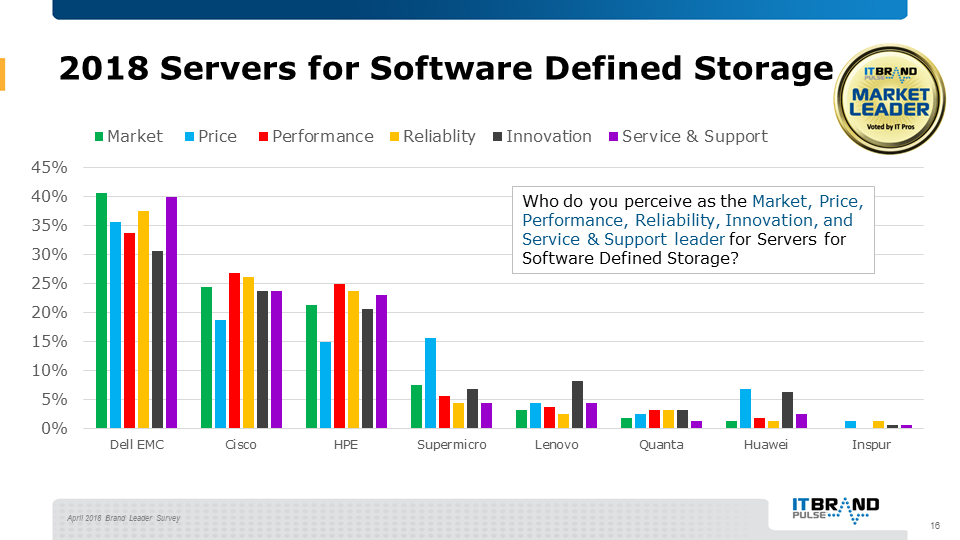 IT Brand Leader Surveys
IT Brand Pulse awards are the symbols for brand leadership. Winners are voted by global IT pros in surveys that are independent, non-sponsored research.  The surveys are designed to measure the pulse of brand leadership in specific product categories. Within each product category, respondents choose the overall market leader, as well as the leader in price, performance, reliability, service and support, and innovation. Voters are provided with a category description at the start of each product section, a randomized choice of vendor answers, and the ability to write in a vendor, if not listed.
Global IT Pro respondents to recent surveys include:  Alliant Energy – Allergan – Allstate Insurance – American National Insurance Company – Amkor Technology – Baird – BC Hydro – Big Lots Stores – Bloomberg – Boeing – BorgWarner – Boston University – BWAY Corp – Brinker International – British Airways – Caesars Entertainment – Canadian Imperial Bank of Commerce – Cardinal Health – CareFirst – CBRE – CBS – Celanese Corp – Chanel – Cirque du Soleil – CIT Group – Colliers – Compass Minerals – Covéa Insurance – CPS Energy – Cox Enterprises – CSL Behring – CSS Industries – CUNA Mutual Group – DaVita – Delta Airlines – Delta Dental – DHL – Dignity Health – Dish Network – DLL Group – Eaton Vance – Encore Capital Group – Ensco – ExxonMobil – Ernst & Young – EverBank – Federal-Mogul – Flagstar Bank – First Acceptance Corporation – Foley & Lardner – Forest City Enterprises – Fox Studios – Fresenius – H. B. Fuller Company – Henry Schein – Herman Miller – HOK – Hess Corp – Hyatt Hotels Corporation – Jet Aviation – Johnson Controls – Kellogg – Konica Minolta Business Solutions – Lockheed Martin – Macy's – McCarthy Holdings, Inc. – Mentor Graphics – MGM Studios – Mohawk Industries – Molina Health – Moneris – Morningstar – MSC Industrial Direct – MTA – M&T Bank – National Oilwell Varco – Navigant – Navistar International – Ohio State University –  Optum – Orlando Utilities Commission – Parker Hannifin – Pernod Ricard – Philadelphia Gas Works – Pitney Bowes – Polycom – PPG Industries – Quicken Loans – Raytheon – Reliance Steel & Aluminum Co. – Rich Products – Sherwin-Williams –  Siemens Corp. – Spectrum Brands – Steelcase Inc. – Structure Tone – Stryker Corporation – Sun Life Financial – Sysco – Tailored Brands – TE Connectivity – The Hanover Insurance Group – TD Ameritrade – Thomson Reuters – Time Warner – Transamerica – Veolia – Verizon – Volvo Group – Wawanesa – Wellington Management Company –  World Vision International – Xylem Inc. – Yale University – Yazaki…and many more.
About IT Brand Pulse
IT Brand Pulse is a trusted source of research, data and analysis about private, public and hybrid cloud IT infrastructure, including servers, storage, networking and operating platforms. Learn more at itbrandpulse.com.
CONTACT:
Alec Berry
Analyst
IT Brand Pulse
949-433-7798